Anuarul Institutului de Cercetari Socio-Umane "C.S. Nicolaescu-Plopsor"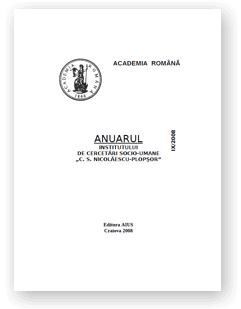 Editata de catre membrii Institutului de Cercetari Socio-Umane "C.S.Nicolaescu-Plopsor", începând cu anul 1999, la initiativa prof.univ.dr. Vladimir Osiac, Anuarul publica articole de cercetare, eseuri critice si recenzii asupra unor subiecte variate din domeniul stiintelor socio-umane. Interesul se îndreapta catre manuscrise originale, axate pe o perspectiva comparativa si interdisciplinara. Revista îsi propune sa depaseasca granitele limitate ale unei singure discipline si sa îmbratiseze domeniile înrudite ale istoriei, antropologiei, sociologiei, filosofiei, literaturii si teologiei.
About the Journal
Edited by the members of the "C.S.Nicolaescu-Plopsor" Institute for Studies in Social Sciences and Humanities, starting from 1999, at the initiative of professor Vladimir Osiac, the Yearbook publishes research articles, critical essays and book reviews on various topics regarding social sciences and humanities. Preference is given to the original manuscripts focused on a comparative and interdisciplinary perspective. Its goal is to transcend the narrow boundaries of a single discipline and encompass the related fields of History, Anthropology, Sociology, Philosophy, Literature and Theology.
La revista
Editada por los miembros del Instituto de Ciencias Sociales y Humanidades "C.S.Nicolaescu-Plopsor", a partir del año 1999, gracias a los esfuerzos del profesor e investigador Vladimir Osiac, el Anuario publica artículos de investigación, ensayos críticos y reseñas sobre varios tems del campo de las humanidades. El interés se dirige hacia los manuscritos originales, que proponen un enfoque comparativo e interdisciplinario. La revista se propone traspasar los límites anchos de una única disciplina y abarcar los campos conexos, la historia, la antropología, la sociología, la filosofía, la literatura y la teología.